How many times have you been on the freeway, minding your own business, trying to get to work, when all of a sudden you're pulled out of autopilot by something smacking your windshield.  Whether a piece of tire, scrap, trash or other unknown flying object, we've all been victims of windshield pits, cracks, or worse. Did you know that Federal regulations require all motor vehicles transporting cargo on public roads must be loaded and equipped, and the cargo secured, in accordance with DOT regulation 393, Subpart I?  This regulations reads (in part):
"Each commercial motor vehicle must, when transporting cargo on public roads, be loaded and equipped, and the cargo secured, in accordance with this subpart to prevent the cargo from leaking, spilling, blowing or falling from the motor vehicle."
Essentially, whether you're hauling garbage, recycling, tear-off or scrap, you need to have your load covered.  Over 18′, it's suggested you get a mechanical tarping system, but for most stake-beds or dump trucks that are 16′ or shorter, a mesh
truck tarp
is the perfect solution.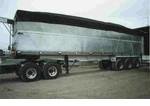 Our Truck Mesh tarps are made of PVC coated polyester open-mesh fabric that has double folded hems for reinforcement and have aluminum grommets every 3 feet. These are ideal for covering trucks loaded with debris or materials that need general protection, but the "sail" effect caused by solid tarps creates a lot of wind drag that may not be desirable.