WE SERVICE WHAT WE SELL!
WE SERVICE IT IF YOU BOUGHT IT SOMEWHERE ELSE!
DID YOU KNOW THAT ROOFMASTER®:
Is an authorized distributor and can provide factory warranty repair for Briggs & Stratton, Kohler, Honda, Kawasaki, Leister, Clearfield, Reimann & Georger, Alemite, Grover Pumps, SpeeFlo (Titan), Hennes – Johnson Spray Equipment, Reeves, Graco and more.
We also repair other manufacturer products not listed.
Has a complete repair, fabrication shop, and state-of-the-art laser-cutting equipment to make our own parts or subcontract outside cutting.
Repairs, cleans, refurbishes or rebuilds ALL MAKES OF KETTLES (Cleasby, Garlock, Blackwell, Aeroil, Reeves, etc.) including Roofmaster's!
Repairs or rebuilds hoists, conveyors, turntables, engines for roofing equipment of all uses, etc.
Can make your kettles "Street Legal" to the latest CA regulations involving lights, D.O.T., signage & bumpers.
Repairs and carries parts for spray equipment including Graco, SpeeFlo, Grover, Alemite, Hennes-Johnson and AM Roof Systems.
Has personnel with over 410 years of combined experience repairing, servicing and selling all makes of roofing equipment.
Services what we sell or don't sell.
Can repair ANY BRAND of roofing equipment.
Will install and repair automatic control systems on Kettles and Tankers.
Provides Prompt, Quality Service at a fair and reasonable rate!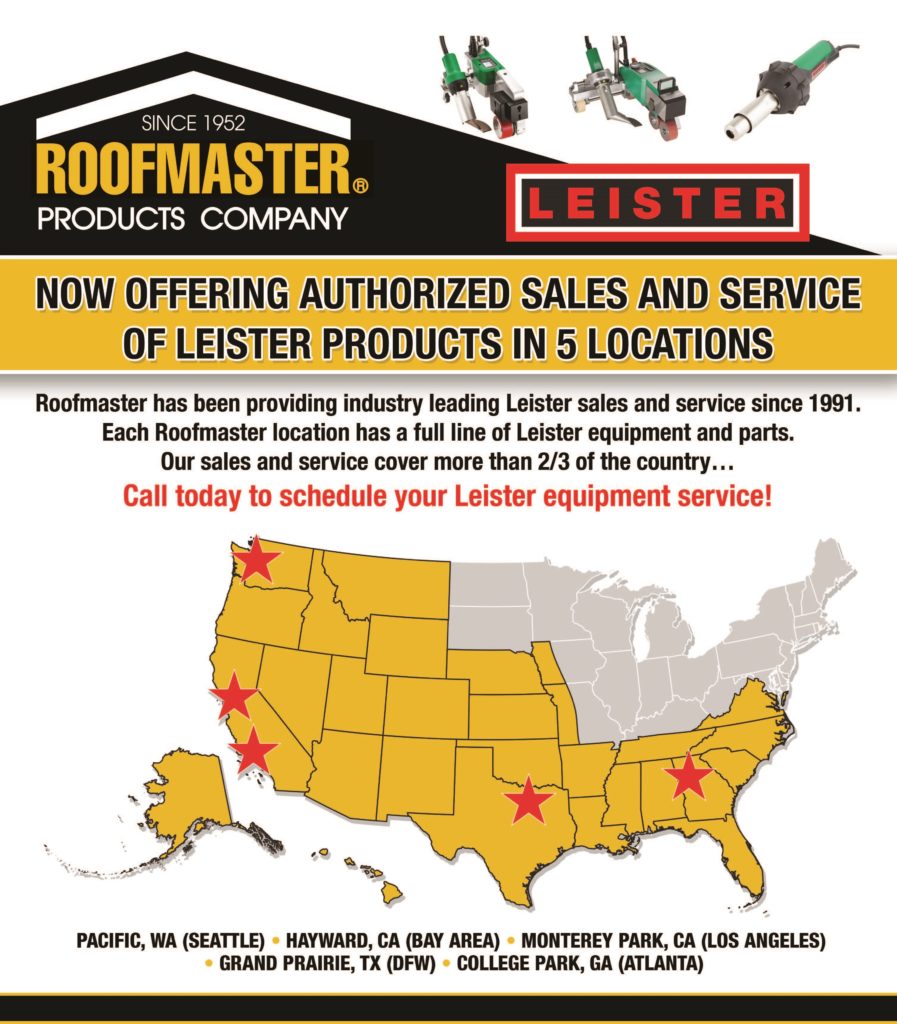 CALL US FOR AN APPOINTMENT OR BRING IN YOUR EQUIPMENT FOR AN ESTIMATE!
(800) 421-6174

ADDITIONAL SERVICES PROVIDED BY ROOFMASTER®
We have a complete metal fabrication shop that will custom-build anything you need. This includes tube bending, MIG & TIG welding capabilities for both steel & aluminum, metal shears, etc.
Laser cutting service that can cut 1/8″ thick aluminum and 1/4″ thick steel in 48″ square or 48″ x 96″ modules. Small production runs can be cut economically because of minimal set-up costs utilizing computer technology. No shape, no matter how intricate, can be cut.
CONTACT Roofmaster and we will be pleased to quote on any custom requirements you may have.