Flat proof tires have been used in industry for many years. There have been foam-filled tires, solid tires and modified foam tires. We're introducing the newest innovation in flat proof tires: The NFL (Non-Flat Lite) tire!
Non-Flat Lites are made of a light weight Micro-Cellular Polyurethane elastomer that is injected into a regular pneumatic tire, filling the entire air cavity of the tire making it completely flat proof and maintenance-free. Unlike traditional "foam filled" tires, this product is one-third the weight and was specifically designed for applications where heavy equipment loads are critical.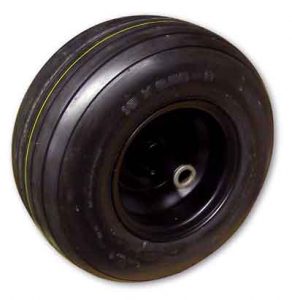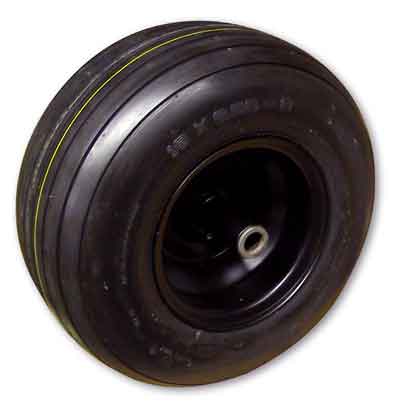 The process of making Non-Flat Lite tires doesn't produce any environmentally unsafe byproducts, unlike many other chemical sealants. The foam is safe to throw away, and preserves the tread-life, which results in less worn out tires in landfills.
Products
If you can't afford to have your equipment and crew down while dealing with a flat or punctured tire, Non-Flat Lite tires are for you! Non-Flat Lite tires are maintenance free, and in addition to never going flat, can extend tread life by equalizing the surface ratio of the tread pattern. Non-Flat Lite tires weigh only about 30% more than the standard pneumatic tire, unlike traditional foam filled tires, which can add 3 times the weight. Non-Flat Lite tires retain the buoyancy and bounce of a pneumatic, unlike semi-solid tires, which over rough terrain is like pushing a shopping cart over an uneven asphalt parking lot – not easy on the driver or cargo.
If you are in an industry that uses small pneumatic tires and have problems with flat tires and crews or customers that are inconvenienced by down time, you should be using NFL tires. A partial list of industries or products that would benefit from our tires:
Construction sites
Rental yards/services
Building materials or lumber yards
Roofing wholesalers
Golf Courses
Nurseries
Lawn mowers/gardeners
Facilities managers
Security/University police
How to Order
We can fill your existing tires, or we can source and sell you new tires. We stock a variety of roofing and material handling cart wheels, in addition to 18×8.50-8 4×4 bolt pattern golf car tires.
We currently offer Kenda's Hole N One golf cart tires mounted on white or beige wheels. Golf cart tires fit Club Car, Yamaha, Par Car or an Ez Go golf cart with no modification. Order NFL Hole N One golf cart tires & they arrive mounted on the wheel & ready to bolt on to your golf cart.
Filling Existing Tires:
If you'd like us to fill your existing tire assemblies, they must be tubeless, in good condition, and the inside of the tire must be clean and free of any liquids or sealants. We can fill tires from a 2.80/2.50-4 all the way up to a 31×15.50-15. Any load requirements are also helpful.
Contact Us
Call: 800-421-6174 or 323-261-5122
Fax: 323-261-8799
Email: [email protected]