We've discussed in the past OSHA deciding that slide guards as your only form of fall protection are no longer acceptable in most applications.  But what are slide guards, and how are they used?
Slide guards, or roof brackets as we call them, are manufactured of 11 gauge steel, and are offered in sizes to accept 2 x 6, 2 x 8 and 2 x 10 planks and to meet different roof pitch requirements.
Roofmaster is proud to stock the Reimann & Georger brand of roof brackets.  Made in America since the 1950's, the "blue" bracket is the most popular and most dependable in the country, and is the choice of professional roofers, painters, masons and carpenters.  These are stamped and robotically welded, to ensure the highest quality bracket on the market.
The Standard (45°) bracket holds a 2×6 wood plank snugly with no rocking or tipping.  Can be used on all slopes up to a 12/12 pitch.  Bracket can be removed without raising or damaging the shingle.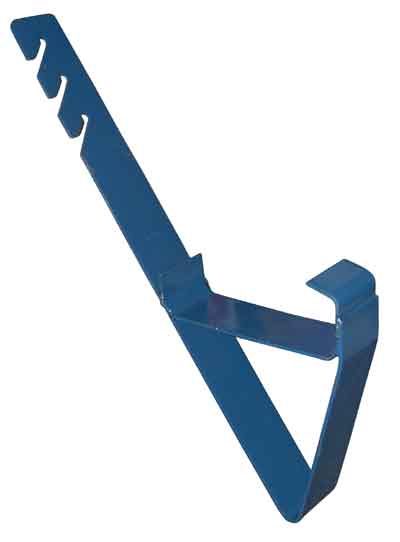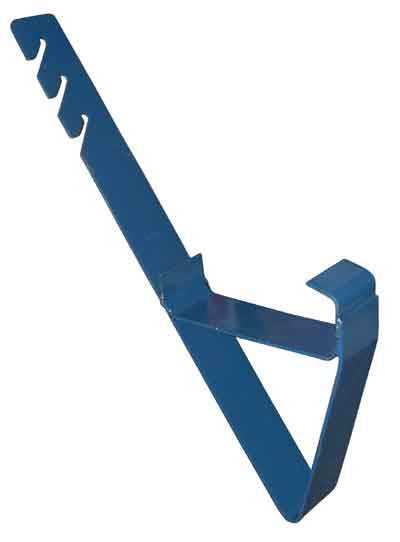 The 60° bracket is similar to the standard bracket above except that it holds a wood plank at 60° to the roof pitch.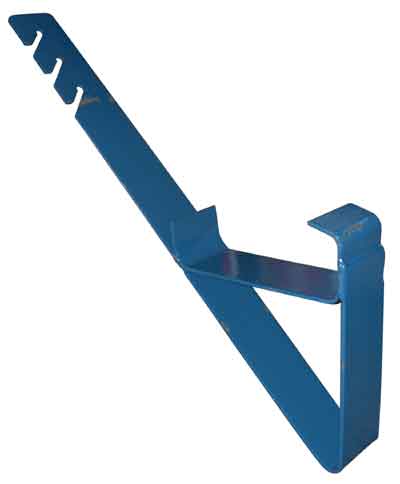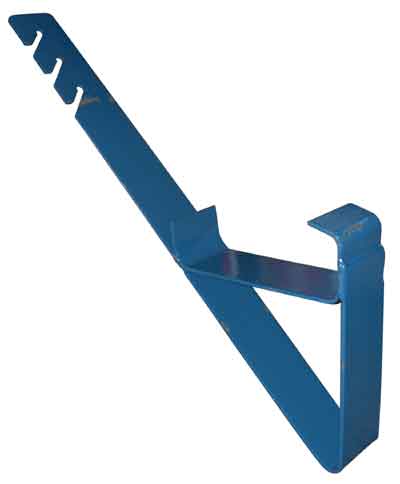 The 90° bracket is similar to the standard bracket except that it holds a wood plank at 90° to the roof pitch.  This is the most common bracket, and is used primarily as a slide guard.

The "Adjustable" 2 x 8 bracket adjusts to any roof pitch.  A locking device is provided to prevent accidental closing at 45° and 56°.  Holds a 2 x 8 wood plank for a wide horizontal platform.  Three parts form a sturdy triangle.  When folded they form a solid rectangular box for easy storage.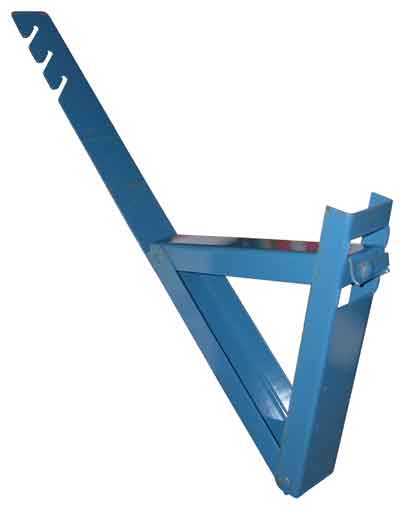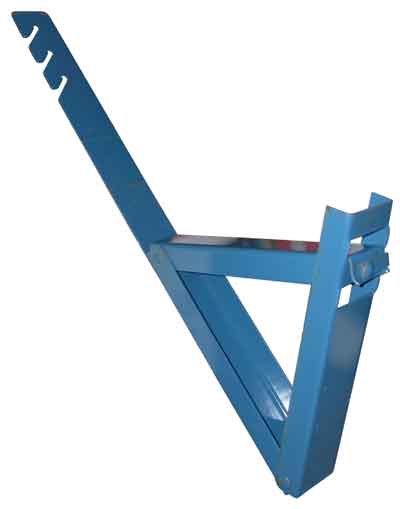 The 45° 2 x 10 bracket is similar to the Standard 2 x 6 bracket except that it holds a 2×10 wood plank for an extra wide work platform.
Some important safety instructions before mounting the brackets:
Roof brackets must be securely mounted with three 16-penny (16d) nails through the sheathing into the roof rafter
Maximum horizontal spacing between brackets is 4 feet
Install the appropriate roof brackets so the plank is level or pitched toward the roof surface
All two inches of free space above the bracket plank support for unhooking
The end of the plank must extend at least 6 inches beyond the roof bracket and no more than 12 inches
Must use 2-inch nominal thickness, scaffold grade planking
Inspect brackets before use for deterioration, damage or deformation; discard immediately
Remember, slide guards aren't allowed to be the primary form of fall protection on your safety plan.  You can use them in conjunction with other fall arrest systems, such as fall arrest buckets and self-retracting lifelines.