Any opening in a roof deck like a
roof hatch
is a hazard to employees or contractors if left open. Proper protocol is to close the hatch after going up through it, but most times this is not done leaving a dangerous hazard for someone to fall through it. This is in violation of OSHA's standard 29 CFR 1910.23 and 27 that requires compliance for safe ingress and egress through hatch openings in the roof.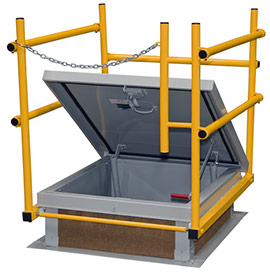 An accessory item is now available to place a safety fence, or rail, around the hatch to prevent accidental falling through the opening. This Safety Guard Rail is clamped around the roof hatch thus eliminating any need for screws or bolts. This also protects the roof deck since nothing is mounted on the roof; it's mounted on the hatch body itself. A chain is secured across the opening to the roof hatch opening on the safety rail. This system can be easily installed at the time the hatch is installed or years afterwards. Construction is 1-5/8" OD tubular galvanized steel with an exterior grade powder-coat giving many years of rust-free service. Each safety system is size specific to the roof hatch size. Most typical sizes will fit roof hatch sizes like a
2'6″ x 2'6"
,
2'6" x 3'0"
, or
3'0″ x 3'0"
. Other sizes also are available.