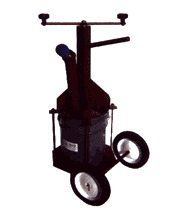 #315 Bulk Caulking Gun Loader
This BULK caulk gun loader offers the latest in refined features for the efficient bulk loading of roofing cements and caulks. No more fumbling with wing nuts that are easily misplaced with the Quick Lock Top Assembly. Simply insert the follow plate seal into the pail, turn the top assembly into the prealigned retaining clips and begin loading. With 5,000# of capable torque, loading is quick and easy.
Works with most popular 2" caulking guns such as Albion and Kenmore. For Cox guns with a coarse thread, there is an adaptor available for bulk loading.


Email This Post