As government regulations change and more people are adding solar panels to their roofs, we receive calls asking what products we have to make installation of solar panels easier and/or cheaper.  A product we've been selling for over a year is the brainchild of another product (CommDeck):
SolaDeck
.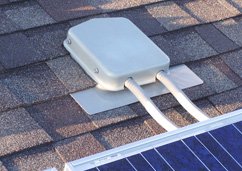 SolaDeck
is a prewired roof-mounted base that serves as a roof terminal for the photovoltaic wiring that comes up through the roof from the inside.  It's available in several models depending on your wiring requirements.  The
SolaDeck
also provides a waterproof installation base superior to regular roof penetrations using inferior boots or just mastic or caulking to try to seal the wire harness. The unit is low profiled and fits easily under most solar panels.  Additionally, it is UL approved.  Most models are much cheaper than what an electrician could fabricate.  Use of
SolaDeck
will provide installation consistency on every job and consistent costing. Roofmaster carries a variety of products for solar panels and solar installations. 
Search "solar" at www.roofmaster.com