We've been deluged with roofers calling and faxing asking about
AQMD Rule 1147
, and how it applies to their roofing kettles.  Briefly summarized:
Air Quality Management District (AQMD) Rule 1147 – Nitrogen Oxide Reductions from Combustion Sources "applies to various types of equipment which burn fuel, such as ovens, dryers, dehydrators, heaters…and other combustion equipment which release nitrogen oxide (NOx) emissions due to burning of fuel and which require an AQMD permit but are not specifically required to comply with a NOx emission control or limit by District Regulation XI rules. Effective Jan 1, 2010, owners and operators of all Rule 1147 units will be required to:
perform combustion system maintenance in accordance with the manufacturer's schedule and specifications as identified in the manual and other written materials supplied by the manufacturer or distributor, and
maintain on site at the facility where the unit is operated a copy of the manufacturer's or distributor's written instructions, retain records of the maintenance activity for a period of not less than three years, and retain emission test records on site, and
maintain on each unit a permanent rating plate in an accessible location.
Specifically addressing asphalt manufacturing operations (which tar kettles fall under), the NOx Emission limit is 40ppm @ 3% O², dry or Pound/mmBTU heat input. The "Notice to Comply" paperwork we've seen from customers usually outlines 2 of these 3 points above – maintenance in accordance with the manufacturer's schedules as identified in the tar pot manual, and maintain a copy of the manufacturer's manual. We've also heard of inspectors claiming you will need time-meters and non-resttable fuel meters. To help you comply, here is a copy of the suggested maintenance schedule:
Addendum to Kettle Operating Instructions
Every kettle sold has instructions in the instruction tube.  Print out the copy of the suggested maintenance schedule and keep it in the instruction tube. As for the permanent rating plate – we rivet on a plate of the front side of every kettle that shows the jet that is used in the kettle burner (amongst other things).  Example: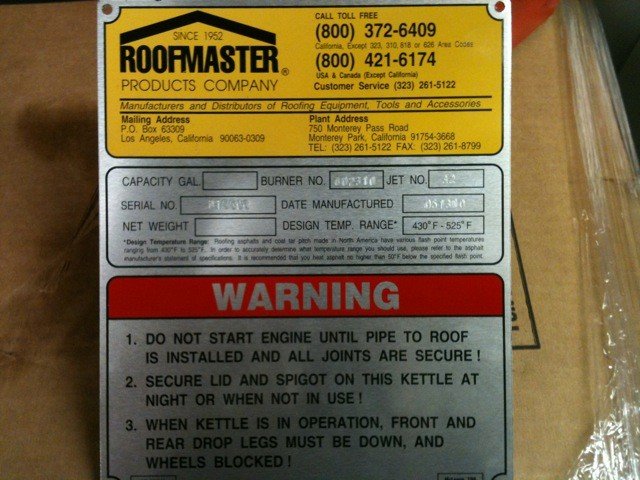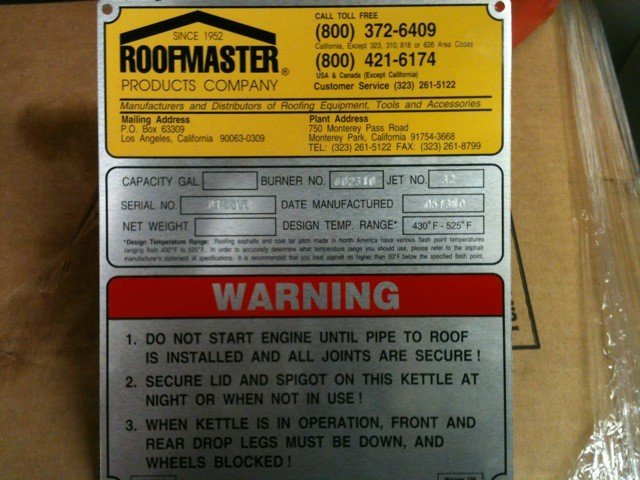 At this point, you've satisfied the Notice to Comply, and will have to go to the AQMD office and get a permit.  Seeing as most kettles are propane burning, and propane is considered a clean burning fuel, there's been a lot of noise that this is nothing more than a money grab by cash starved agencies.
Update:
We received an advisory notice that the AQMD intends to:
Remove the requirements for installation of time meters
Remove the requirements for installation of non-resettable totalizing fuel meters if the operator intend to comply with the Rule 1147 NOx emission limits in parts per million (ppm), but still require the fuel meters if the operator intends to comply with the NOx emission limits in pounds per million British Thermal Units (lb/mmBTU)
Extend deadlines for demonstrating compliance with the early phases of NOx emission limits by approx one year
If you have questions regarding the proposed amendments, you can contact Wayne Barcikowski –
[email protected]
If you have questions regarding compliance with the rule, you can contact Dr. Cher Snyder –
[email protected]
Do you have any experiences (good or bad) with this new rule?  Any insight or tips you can share with your fellow roofers?  Leave us a comment or drop us an email.  We know this is causing headaches for many Southern California roofers