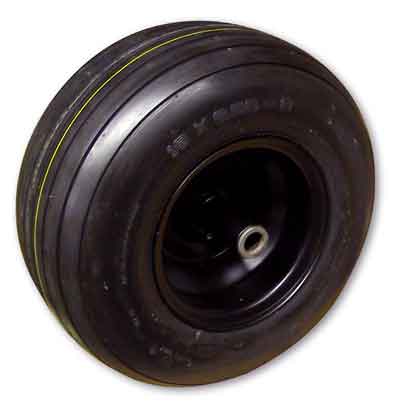 NFL 18×850 3.25"Hub 1" Brg
18x8.50-8 Wheel with 3.25" Offset Hub and 1" Roller Bearings filled with Non-Flat Lite (NFL) foam. Replace your pneumatic wheels for a flat free job-site. Will fit any piece of equipment with a 1" axle and a 6" space between the cotter pin and washer stop. Remember, the NFL tire does not have a "memory" or flat spot after sitting overnight.

NOTE: This wheel with the 3.25" hub will fit any "older" piece of equipment that was made with an axle for a 6" hub. If replacing a 6" hub wheel, you can order spacers (505427A) to take up the missing space difference. One per wheel is needed.

Did you know we can also fill your existing tires with our NFL foam?

Email This Post
Specifications
Item #:

505050

Item Desc:

NFL 18x850 3.25"Hub 1" Brg

Item Desc 2:

Ribbed Tread

Weight:

30.000

Price Um:

EA

Units/Pk:

1

Non-Flat Lite Foam Filled