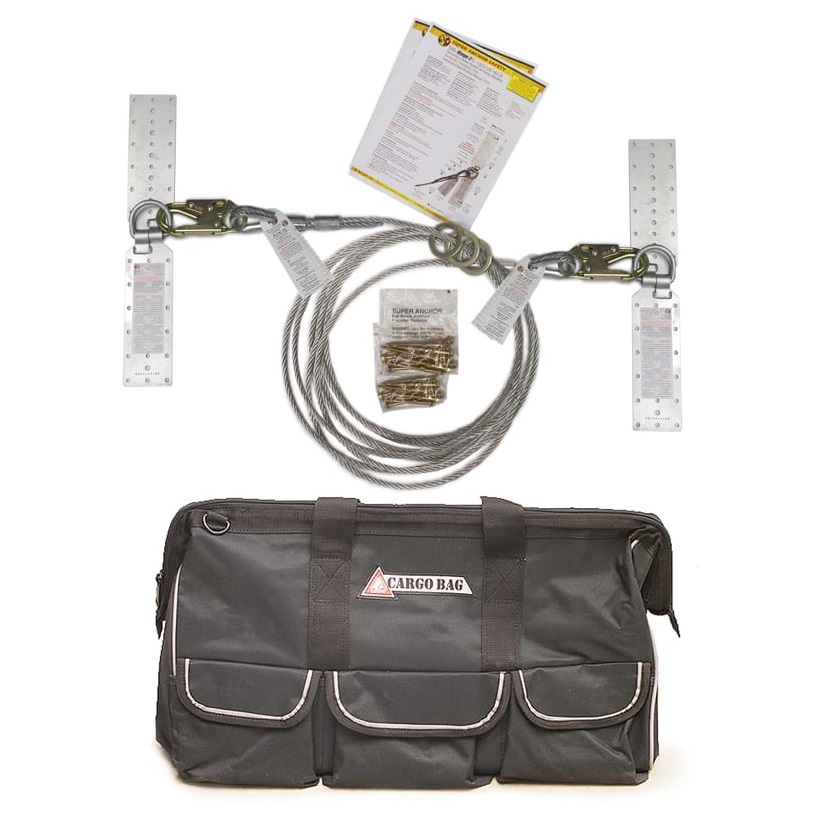 20′ Horizontal Life Line Kit with Bag
The 20' Horizontal Life Line Kit with Bag features a 30-degree angle fixed length, and is a factory engineered Horizontal Lifeline System for use by 3 workers in fall restraint or 2 in fall arrest. This system is available in a 20' kit with carry bag (p/n 412457) or without a carry bag (p/n 412457). This 3rd party engineered horizontal line kit is a cost-effective way to have multiple workers on the roof with room to move freely.
Engineering standards specify that a horizontal lifeline without an energy absorbing device subjected to fall hazards must have a 30-degree anchors between anchorage points. Super Anchor Safety fixed length horizontal lifelines, when used with our specified anchorage devices provide an engineered system for rafter spacing of 10' up to 20'. For accurate rigging, each fixed length horizontal lifeline is labeled for the correct rafter spacing.
3rd Party Engineered 30-degree Angle HLL System
Extremely Cost Effective with Replaceable Parts
Temporary Installation on Flat or Pitched Surfaces
2 person Fall Arrest or 3 person Fall Restraint
Factory Engineered 10', 16' and 20' Replacement Lifelines Available
Heavy Duty Cargo Bag Available
Reusable WS Series Screws Provided
Super Heavy Duty 3/8" Galvanized Cable rated for 14,000+ pounds
4-page Instruction/Specification Manual Included

Email This Post
Specifications
Item #:

412456

Item Desc:

20' Horizontal Life Line Kit w/ Bag

Weight:

2.000

Price Um:

EA

Units/Pk:

5

Roof Anchors