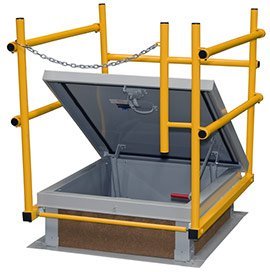 Guard Rail for 2'6"x2'6" Hatch
Access in and out of roof hatches can be stressful and pose a real threat of injury. The Safety Guard Rail mounts easily to all roof hatches after the roof hatch has been installed. Because of a unique clamping feature, no holes are required through the roof hatch or re-roofing system, thus maintaining the roofing system warranty. Safety Guard Rails meet the intent of OSHA standard 29 CFR 1910.23 and 27 that requires compliance for safe ingress and egress through hatch openings in the roof.
This unit is for a 2'6" x 2'6" hatch, but units are available for all sizes of hatch.
Note:
Roof Hatch for pictorial purposes only, not included

Email This Post
Specifications
Item #:

109032

Item Desc:

Guard Rail for 2'6"x2'6" Hatch

Weight:

57.000

Price Um:

EA

Units/Pk:

1

Ladder Hatches