We've heard a lot of questions asking about the difference between the Daytona Big Block and the Daytona Big Block HD.  Well, after scratching our heads, we got to the bottom of it.  The HD version has a heavier duty snap hook, and is now the de facto standard.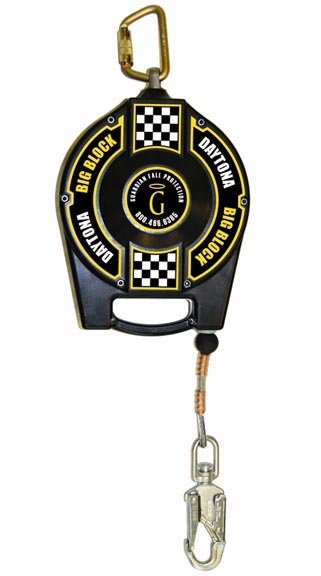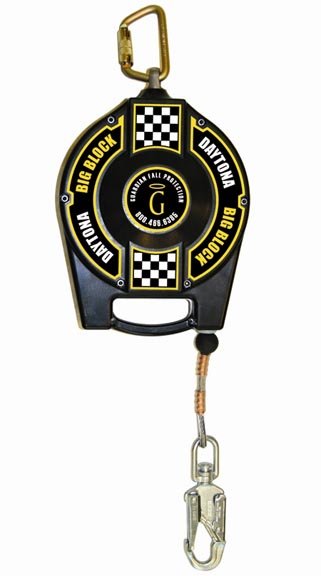 The Daytona features:
Priced 20% less than like-in-kind units
Easy to carry
High strength composite cable guide
Stainless steel and non-corrosive components
Quick-action braking system
Manufactured in the U.S.A.
Proprietary ABS reinforced housing
Meets or exceeds all OSHA and ANSI standards
Comes with swivel top, carabiner and tag line
Can be ordered with rebar hook
Reflective 3M stickers for easy recognition
1. Quality: The internal components of this retractable lifeline are comprised of high-end materials. The special coated brake pawl bolts are heat treated, grade 8 and impervious to salt water contamination.
2. Value: Other retractables of this quality are priced 20% or more higher than ours. Guardian's Daytona Big Block brings our distributors and end users a better value than the competition, yet the quality is high-end.
3. Durability: The proprietary ABS housing is reinforced with an inner brace which provides greater durability. Internal components are made of aluminum, treated steel, and stainless steel parts. Critical parts are machined and void of any plastic components.

SPECIFICATIONS:
Pawls: 304 stainless steel
Reel Body: Aircraft grade machined aluminum
Brake Ring: Aluminum bronze
Anchorage Connection: Zinc plated alloy steel carabineer (5,000 min. tensile strength)
Snap Hook: Zinc plated alloy steel snap hook (5,000 min. tensile strength)
Housing: High strength polycarbonate
Housing Bracket: Precision laser cut zinc coated steel
Cable Construction: 12 strand galvanized or stainless steel
Weight: Less than 22 lbs
Capacity: 310 lbs or 400 lbs with attached shock pack
Standards: Exceeds Z359.1-2007
Remember, with 2 West Coast locations, Roofmaster is the local choice for repairs and recertification of Guardian's Edge, Daytona, 3-Way, Yellow Jacket and Big Block Self-Retracting Lifelines (SRL).  Armadillos are currently required to be repaired and recertified at Guardian's headquarters.  We stock the parts and components in order to facilitate a 24 hour turn-around from receipt of a Purchase Order.