RetroFit Drains are designed to quickly and affordably replace existing drains in reroofing applications. They allow the roofing professional to install this style of drain into the existing drain pipe with a back-up seal (prevents water from backing up in between the drain insert and original drain pipe). Installed from the roof surface, you no longer need to replace (or rework) cast iron rings and domes, and with a wide flange, are able to flash a watertight connection to the roof system. Clamping rings are recommended for single ply systems.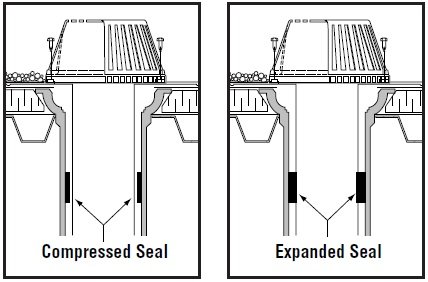 While the overall concepts of various RetroFit drains are similar, there are differences in material and back-up seal types. The horizontal flange is available in copper or aluminum for graveled or smooth roofs. Asphalt-primed flanges can be used with built-up or modified bitumen roof systems, PVC clad flanges are available for thermoplastic single plies.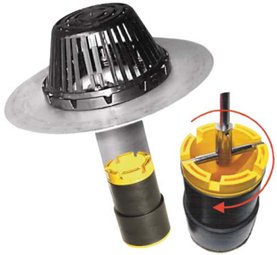 Creating a watertight seal is the most important design element of the drain system. Various methods of creating a watertight plumbing connection between the retrofit drain and existing pipe are available. These include plumbing seals that are created with expanded lead and caulking, foam tapes that expand, and mechanically activated elastomeric seals.
RetroFit drains are available in any length needed but usually are standard 9" or 12" long. RetroFit drains are supplied with a Plastic Strainer and Clamping Ring (if needed). Upgrading to either Cast Aluminum or Cast Iron strainers and/or rings are also an option.