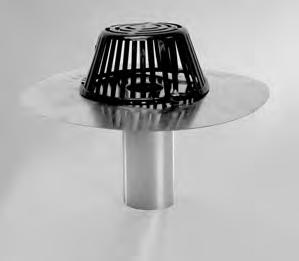 4" X 9" Cent Prem Strait Drain
Clamping ring option for single-ply roof systems Constructed of durable quality copper Adapts to all types of membranes and roof systems Provides flexible expansion type connections to plumbing Positive seal to roof membranes Quick and easy to install from the roof top Custom fabrication available for non-standard applications Made in U.S.A.
This is the Premium model and has an 18" flange. Available in sizes 2", 3", 4" and 6"


Email This Post
Specifications
Item #:

157134

Item Desc:

4" X 9" Cent Prem Strait Drain

Weight:

5.180

Price Um:

EA

Units/Pk:

4

Clamp Ring:

No

Color:

Copper

Flange Diameter:

18"

Installation:

New Installation

Manufacturer's P/N:

CPS49

Manufacturer:

Marathon

Model:

Century Premium

Outlet Type:

No Hub

Pipe/Outlet Size:

4"

Type:

Copper Roof Drain

Copper Roof Drains