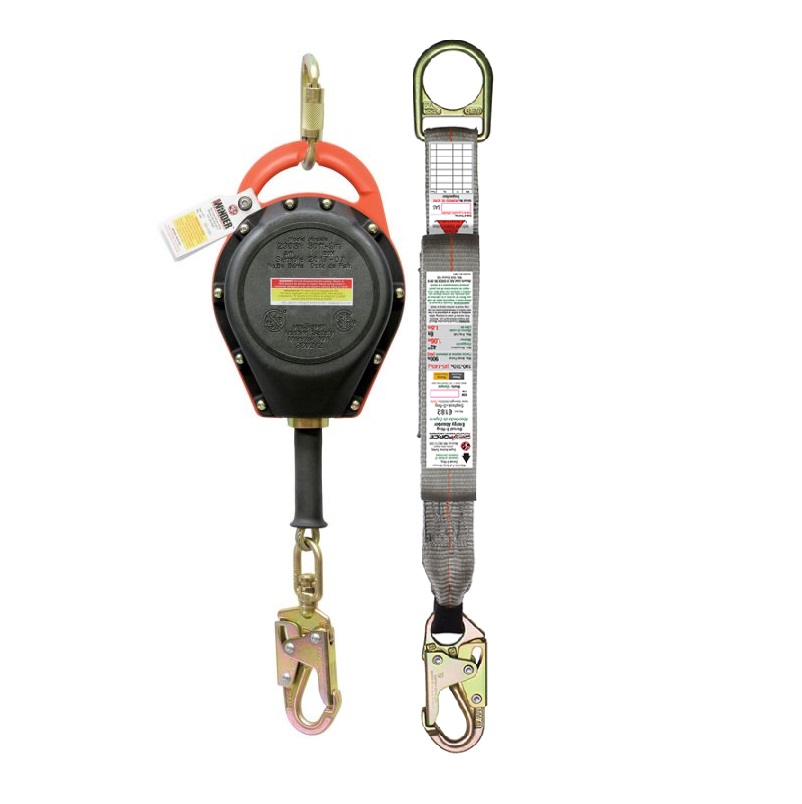 Sidewinder 30′ Retractable with Shock Pack
The SideWinder Self Retracting Lifelines (SRL's) are designed to arrest a fall when a worker falls off a leading edge. They can be used on a flat roof, sloped roof or in a vertical (overhead) position. SRL's are a very specialized piece of fall protection equipment and require user training in order to used properly. Our SRL's are offered in 10', 20', 30' and 50' lengths and feature a strong ABS housing and galvanized 3/16" cable. All Sidewinders come with a steel autolocking carabiner to connect to your anchor point. Features include:
Lengths offered in 10', 20', 30' and 50'
ABS Housing is Extremely Durable
Custom Warning Label Package Resists Wear & Tear from Roofing Surface
Double Locking, 3,600-pound Impact Indicator Snaphook
Durable 3/16" Cable
Maximun Arresting Distance 42"
Full Services Performed at Super Anchor Safety Factory
Complied with OSHA and ANSI Standards
This SRL comes with a Max Force Energy Absorber (Shock Pack). The Energy Absorber is one of the most critical components for fall protection and is required by OSHA when workers are exposed to a free fall hazard. Designed to limit maximum arrest forces while slowing the descent, our absorbers feature patented domestic manufactured tear webbing and the highest quality connectors. MAX Force personal energy absorbers are manufactured at our factory in Monroe, WA and are ensured for component compatibility with all Super Anchor Safety Personal Protection Equipment. An absolute must for fall protection and leading edge work.Our Snap Hook Series contains an ANSI Z359.12-09 3,600-pound gate strength snap hook sewn onto the end of the absorber. This connects to the rear D-ring of the user's full body harness. Maximum arresting force is 900 pounds with a maximum deployment length of 42".MAX Force Absorbers are also supplied with Fall Arresters and Integral Adjusters (mechanical rope grabs). Mechanical Fall Arresters and Integral Adjusters have single direction locking functions that require correct orientation when installed onto a lifeline. Fall Arresters are removed from the lifeline by unlocking a hinged gate mechanism. Integral Adjusters are not designed for removal from the lifeline. Factory attachment on the absorber eliminates 1 connector resulting in a lighter component. #4015-C/Z are Panic Grab types that prevent the worker from disabling the locking function during a free fall and comply with CSA Z259.5-12.
Made in USA
100% Polyester Webbing Material
Fall Indicator Label
Inspection Report Label
PVC Wear Pad Loop End Accepts Snap Hooks & Carabiners
Clear PVC Cover for Easy Inspection
English/Spanish Warning Labels
Hip Height Length for Easy Reach Adjustment

Email This Post
Specifications
Item #:

412532

Item Desc:

EDGE 30' Retract Safety Line

Weight:

11.000

Price Um:

EA

Units/Pk:

1

Fall Arrest